Divi Template Building
As the expert Divi theme support company, we always have with us several pre-designed layouts for the Divi theme that our customers can choose from for their own development purposes.
The Divi Theme Builder is a fully-featured site templating system that allows you to use the Divi Builder to structure your site and edit any part of the Divi Theme including footers, headers, post templates, category templates and more.
Divi
Template

Building

Divi Theme Builder template consists of a custom Header, Footer and Body layout. These 3 areas can be built and customized using the Divi Builder and its full set of modules along with Dynamic Content.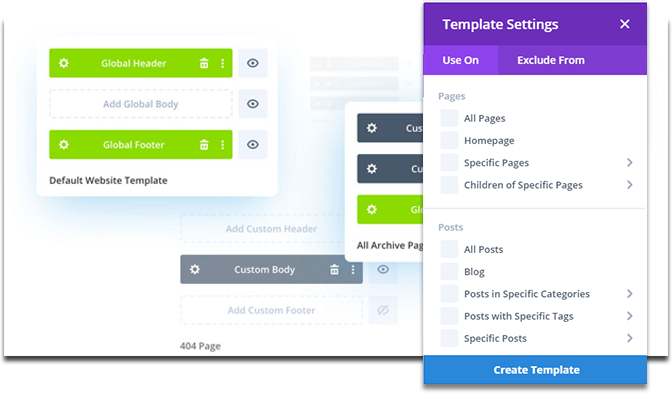 Using the Theme Builder you'll be able to create custom headers and footers for any a part of your website. You are no longer limited to Divi's standard header but instead are given the full control over your website's header using the Divi Builder and its many modules.
This update also comes with improvements to the Divi menu module, giving you more layout options, more control over its elements and of course full control over its design. You can create a global website header that affects your entire website and you can customize any individual part your website too.
Let's Work Together!
So, if you are interested in working with us with your exciting new project choose a package to start with and customize from there! We will work closely with you to achieve your goals.